Statsplained! What Homebuyers Preferred in 2021.
As new homebuying preferences knock old ones, apartment size, developer reputation and buying timeline are key takeaways.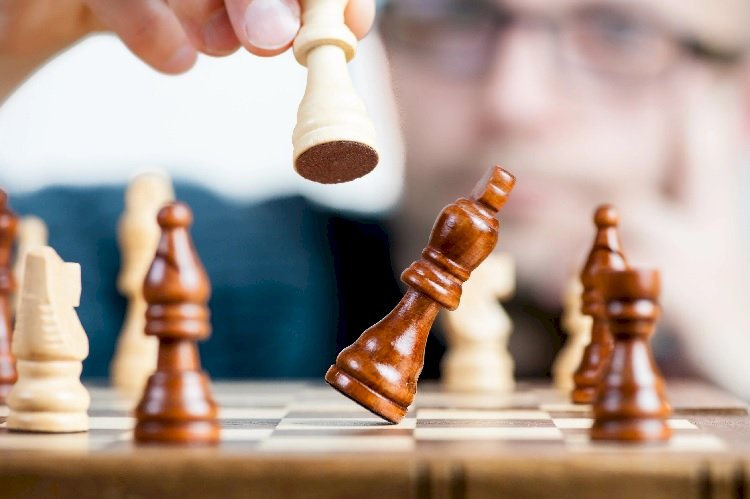 Introducing, Statsplained! A brand-new series by Horizon FP that brings a fresh, graphical way of crunching numbers.
'Homebuyer Preference Survey 2021: The COVID-19 Impact' conducted jointly by JLL India and RoofandFloor, covered more than 2500 prospective homebuyers across Mumbai-MMR, Delhi-NCR, Bengaluru, Hyderabad, Chennai and Pune. It is second round of the first survey conducted entirely online in 2020. Featuring quantitative and qualitative questions, the results offer a data-driven perspective into how the COVID pandemic impacted homebuying preferences and what homebuyers really want from a home in 2021.
Self-use remains biggest reason to buy a home
Self-use continues to be the primary reason for home purchase. These homebuyers can be classified into three distinct categories: first-time buyers, those upgrading to larger or better homes, and those purchasing a second property to use as a holiday home.
Preference for larger apartments and suburbs
Budget and configuration preferences indicate a majority of homebuyers prefer sub 75 lakh properties, which does not constitute a major change from 2020. The preference for larger, more spacious homes, however, is a significant change. Prospective buyers showed greater willingness to relocate to suburbs/peripheral markets in the search for larger homes at the same budget.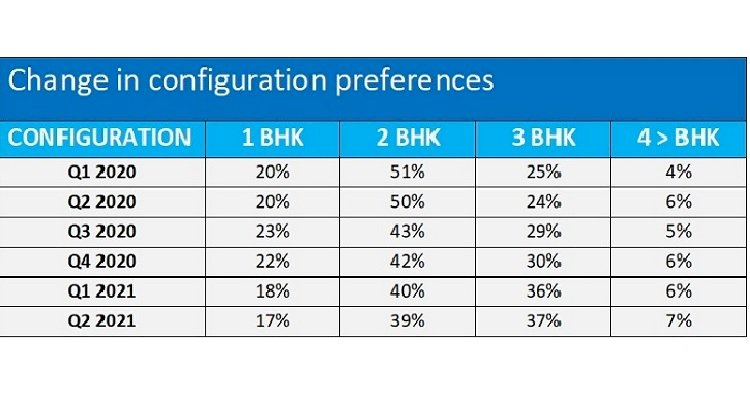 There is growing demand for 3 BHK apartments in the southern cities and Delhi-NCR. The demand for villas and plotted developments has increased in Bengaluru, Chennai and Hyderabad.
Buyers are taking a closer look at floor plans. There is greater emphasis on having an additional room for work/study from home, especially in Mumbai and Pune where 1 BHK and 2 BHK apartments are the most preferred.
Changes in key decision-making aspects
Major decision-making aspects for prospective homebuyers remain unchanged, but there is a shuffle in the relative importance of these aspects. For example, 'Connectivity to office and schools' in pre-COVID Q1 2020 is replaced by 'Size of the apartment' in Q2 2021.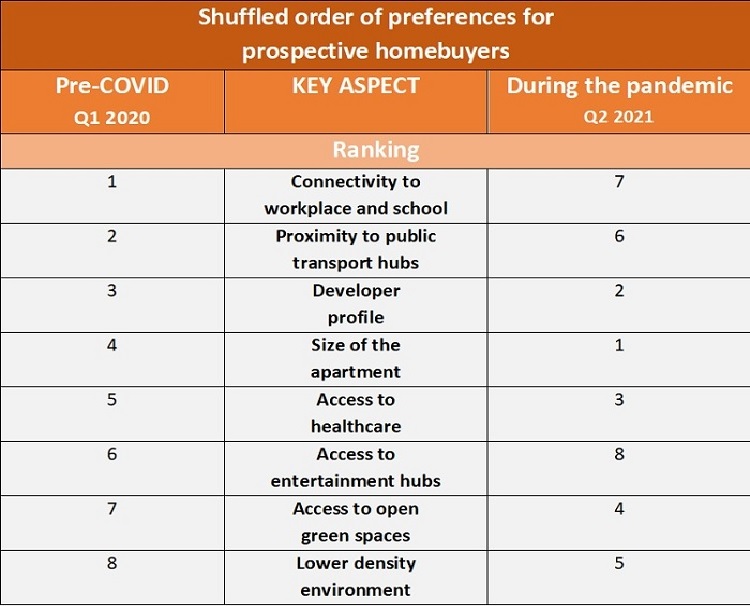 The definition of a 'great location' has changed over the course of the pandemic. Connectivity to office hubs and schools were the primary concerns, now replaced by access to healthcare and proximity to open spaces. Notably, prospective buyers are more willing to relocate to less crowded locations in exchange for spacious homes at affordable prices.
Residents of Mumbai have shown preference for sub-markets like Thane and Navi Mumbai. With the city the preferred Western Suburbs are Andheri, Goregaon, Jogeshwari, Versova, Vile Parle, Malad, Kandivali, Borivali, and Dahisar. The preferred Eastern Suburbs are Bhandup, Chandivali, Ghatkopar, Kanjurmarg, Kurla, Mulund, Nahur, Powai, Vidyavihar and Vikhroli.
Ready to move, under construction by reputed developers favoured
The survey noted that prospective homebuyers continue to prefer ready to move in apartments by reputed developers. In markets where such inventory is low, prospective buyers are more open to under construction projects by developers with an established track record.
The preference for under construction homes increased to 55% in Q2 2021 from 41% in Q1 2020. In the same period, preference for ready to move in homes was down from 59% in Q1 2020 to 45% in Q2 2021.
Explaining the trend, the survey notes that preference for ready homes is further driven by the fact that price difference between ready to move in and under construction projects has risen over the past quarters. Developers are offering more flexibility and price discounts in under construction projects, while prices of ready projects by reputed developers have risen.
Moreover, structural reforms within real estate in the last few years have weeded out smaller, unorganised developers. The pandemic too tilted the scale further in favour of reputed developers who are responsible for delivering most of the new launches, especially during the pandemic.
Purchase within next 3 months
As the market recovers, developers are expected to be less flexible in offering price discounts and benefits. Prospective homebuyers want to make the most of this time, with more than 80% inclined towards buying a house in the next 3 months.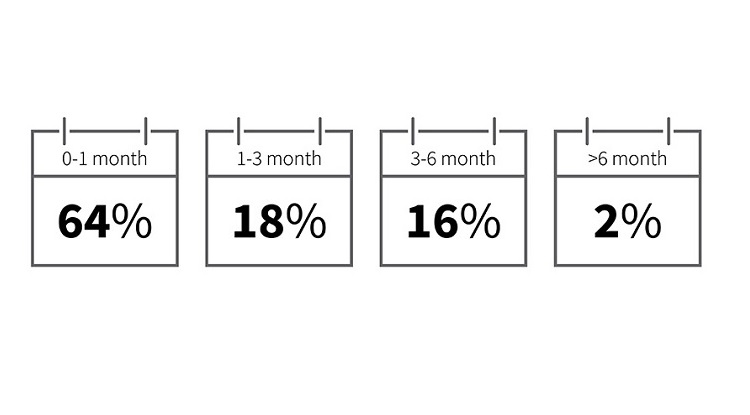 Source: JLL Research and RoofandFloor Research
According to the report, while activity levels have increased, the real estate sector is still some distance from attaining pre-COVID levels. With most prospective homebuyers expected to make a purchase in the next 3 months, the residential market is witnessing a recovery and 2021 is likely to end on an optimistic note.
If you are looking to buy a home in Mumbai city or MMR, we can help with everything – from searching a home to getting it financed!
What's Your Reaction?