Thane: Everybody's Residential Paradise
A historical city and thriving town rolled into one, Thane is a popular housing destination for one and all, young and old.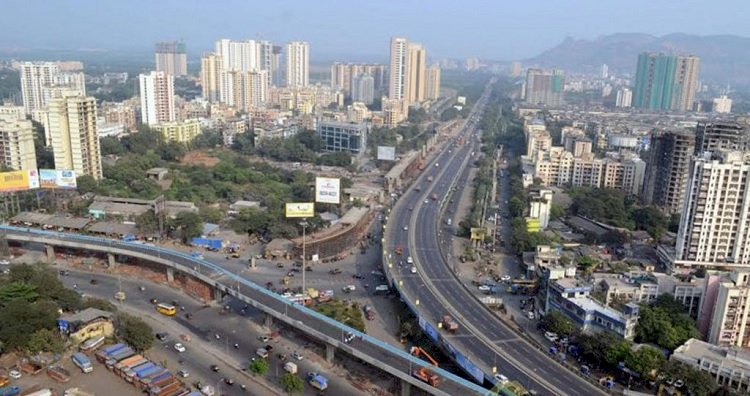 Is Thane a good place to live?
Thane city has an interesting origin to its name. The word 'Thane' in Marathi means police check post. In time the name stuck to the then second largest police check post after Mumbai (when it was Bombay), but modern Thane has little that ties it to the name. It is a bustling residential and commercial hub – the 15th most populous urban area in India, and the uncrowned city of lakes, 35 in all.
Lying at the north-eastern edge of Mumbai, Thane city is almost an extension to the megacity, except that it has its own vibe. Thane is one of Mumbai's fastest growing cities and is now at a stage where India's metro cities were a few years ago. Rapid urbanisation, major infrastructural projects and connectivity upgrades, and the ever-expanding social infrastructure have made Thane city a coveted location for homebuyers for many years now. With the availability of land and the willingness of more Mumbaikars to make Thane their new home, the demand for housing in Thane is unlikely to cease in the foreseeable future.
Thane has several textbook residential locations with cosmopolitan populations, natural surroundings, excellent connectivity and large, self-sufficient townships that offer a quality lifestyle and premium amenities.
Thane is its own city
While comparisons with Mumbai are inevitable due its proximity, Thane is clearly not an alternative to Mumbai because it offers just about everything that Mumbai does, and some more. Its many lakes notwithstanding, Thane is blessed with natural green cover that's far superior to that of Mumbai and most large cities for that matter. In terms of affordability, quality of life, air quality, public spaces, townships and intra-city travel and accessibility, Thane delivers more than Mumbai. It is also home to leading malls, top hospitals, reputed schools and colleges, large markets, public transportation, multi-modal connectivity and better accessibility to Navi Mumbai and MMR than Mumbai does presently.
While Thane supports a great deal of industrial activity, it is home to the road corridor between Mumbai and Gujarat, and the gateway to cities like Nashik and industrial centres like Bhiwandi, Ulhansnagar, and Kalyan-Dombivli.
For a city that's a fourth the size of Mumbai, Thane is blessed with natural splendour, including Yeoor Hills, Ulhas River and the Thane Creek famed for its flamingos. Thane is also within driving distance from a number of picnic spots and must-visit sites like Matheran, Lonavala, Jawhar, Karjat, Alibaug and many others.
Education in Thane
Thane has a large number of modern private schools offering a variety of curriculums. Spring Buds International School (CBSE), Smt. Sulochanadevi Singhania School (IB, CISCE), Kendriya Vidyalaya (CBSE), Podar International School (CBSE), Billabong High International School (IB, ICSE), EuroSchool (ICSE), Nalanda Public School (CBSE), to name a handful. Thane is also well-known for its network of coaching centres. It has a number of reputed colleges imparting higher education across vocations and specialities – K.C. College of Engineering & Management Studies & Research, New Horizon Institute of Technology and Management, Dr. V.N. Bedekar Institute of Management Studies, K.V. Pendharkar College of Arts, Science and Commerce, Rajiv Gandhi Medical College, University of Mumbai Thane Sub-Campus, and many more.
Hospitals in Thane
In addition to a large number of primary healthcare centres, public hospitals, speciality hospitals, occupational therapy centres, maternity hospitals, eye and blog banks, yoga and physiotherapy centres, Thane boasts some of the finest healthcare services outside Mumbai. Hiranandani Hospital, Jupiter Hospital and Bethany Hospital are the leading multi-speciality healthcare providers.
Culture, Shopping and Entertainment in Thane
Once dominated by the culture of its first Marathi-speaking settlers, Thane is now a multicultural society that celebrates Ganesh Chaturthi, Gokul Ashtami, Diwali, Holi, Gudhi Padwa and Christmas in a big way. It also hosts a number of cultural, visual and performing art and food festivals, plays and live performances at open air venues and renowned auditoriums, such as, Ram Ganesh Gadkari Auditorium, Dr. Kashinath Ghanekar Natyagruha, Acharya Atre Natya Rangmandir and Kala Bhavan Thane.
Viviana, Korum and R-Mall are the biggest malls in Thane, there are several smaller malls and shopping centres across the city. Thane also has a large number of vegetable and wholesale markets.
If you live in Thane, there are plenty of options for leisure, entertainment and dining. A large number of single-screen cinemas, multiplexes, malls, public parks, clubs and sports facilities dot every corner of Thane. Among its many talaos or lakes, Masunda Talao, Upvan Lake, Kachrali Talao and Panch Pakhadi Talao are the most popular.
The best picks in every to-do list for Thane include Ovalekar Wadi Butterfly Garden, Tikuji-ni-Wadi, Suraj Water Park, Thane Creek Flamingo Sanctuary, Kokanipada Waterfall, Sanjay Gandhi National Park, St. John the Baptist Church and Tansa Lake.
Thane has a large number and diversity of dining options at restaurants, pubs and lunges, and street food outlets. In Thane, there are numerous options to sample traditional Maharashtrian food and snacks at fine dining establishments, eating houses and street corners. All major domestic and international food chains operating in Mumbai have a presence in Thane.
Connectivity and Infrastructure in Thane
Thane is well connected to Mumbai's central and western suburbs, Navi Mumbai and MMR via road and rail. BEST buses ply to Thane from across Mumbai and NMMT buses from Navi Mumbai. Thane has its own fleet of TMT buses. Thane is linked to central Mumbai by road via LBS Marg and Eastern Express Highway, and to the western suburbs via Ghodbunder Road. It is connected to Airoli and Navi Mumbai by the trans-harbour rail line. The upcoming elevated Metro Line 4 Kasarvadavali-Wadala will further strengthen connectivity to Thane from MMR and Mumbai.
Looking for a home in Thane?
Thane has a wide variety of townships ranging from old to new and small to large. Vasant Vihar and Vrindavan Society are among the oldest townships in Thane while Hiranandani Meadows and Hiranandani Estate are among the biggest.
Here's the pick of new and emerging townships and residential developments coveted in Thane.
Check out the full list of Thane's finest homes, here.
What's Your Reaction?