Homes at Lodha Upper Thane Have 'Everything'
From greenery to recreation, walkability to a central location, education to sport, Upper Thane has everything, and more.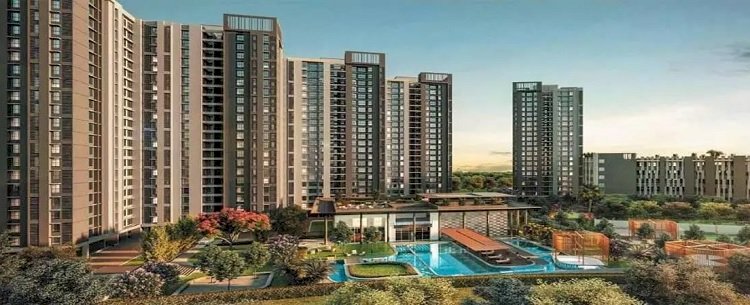 Lodha Upper Thane is designed with everything in mind. To begin with, it sits at the heart of Thane, minutes away from Majiwada next to the Mumbai-Nashik Highway. For a location like that, no wonder Upper Thane is a 'walk-to-everything' development where everything is a 2-5-10 min walk from your home.
Upper Thane is an integrated township featuring every amenity, necessity and comfort that makes for wholesome living. The estate spans more than 200 acres with 80% open space with a lush 14-acre green lung at the centre of health and recreation facilities for residents. Grounds for cricket and football, athletics track, badminton courts, basketball court, outdoor kids' play area and an outdoor swimming pool will be everything you need to maintain a healthy life full of sport and activity in the green outdoors.
Don't let your health goals be challenged by the beating sun or soaking rain, just get inside the 5,800 sq. ft. gym, play table tennis, snooker and more at the indoor games room, or swim at the indoor pool. When it's time to unwind, head out to The Nest – a 50,000 sq. ft. clubhouse that's grand in scale and everything else.
Upper Thane has something for everyone not just outdoors but inside too. A selection of spacious 1,2 and 3 BHK homes are designed to suit every need, budget and family size. Your home has space for everything – a home office, quiet spot for exercise and contemplation, a bit of gardening, or even a quick, informal gathering of friends, family or loved ones.
All homes are fully air-conditioned, feature tall windows for maximum light and ventilation, Marbital® flooring, high-quality fitments, kitchen comes with granite platform, and bathrooms with the finest bath fittings, everything has been taken care of.
The Majiwada location of Upper Thane puts it on a stretch set to be the next growth corridor of the MMR. Well-connected to other parts of Thane, Mumbai, Navi Mumbai, MMR, upcoming infrastructure works will further increase the location's connectivity and growth potential. The 8-laning of Mumbai-Nashik highway will ease flow of traffic in this busy section of Thane, and make access to hotspots in Thane possible in 15 min. The upcoming Thane–Dombivli link road will connect Upper Thane to Dombivli (W) station in 10 min from Upper Thane. The Metro 5 Thane-Bhiwandi-Kalyan corridor will bring the metro close to Upper Thane, and the Virar-Alibaug multimodal corridor will offer connectivity to now distant commercial and business locations, and provide seamless connectivity between Palghar, Thane and Raigad.
Now that you know a home in Lodha Upper Thane has everything, don't you too want to make your home there? Request details or arrange a site visit.
Disclaimer
This story is based on information obtained from external source(s) and may be subject to change. While Horizon makes a reasonable effort to verify such information, it does not vouch for authenticity and/or accuracy, and bears no responsibility for damages or claims arising from the use of this information in any way.
What's Your Reaction?