Prime Square- A land of opportunities
Lodha Prime Square helps you to connect with surrounding easily and makes your life much easier. So don't wait and grab the golden opportunity.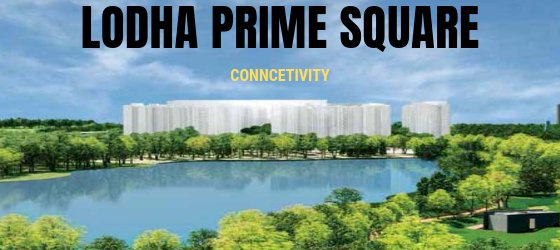 "Prime Square-A Well Connected City"
The economy of Mumbai is expanding as new townships emerge around the city. Lodha Palava codename finale is now an emerging destination for this growth with plenty of projects and big-name corporations making this sprawling property in Dombivali their new home.
Connectivity of Prime Square:
The Central Business District (CBD) will be spread across millions of square feet of land and will house offices of world-class calibre. This central business hub will be located a stone's throw away from Palava Prime Square and will be easily accessible to the residents of the neighbourhood.
This will offer residents a high number of well-paying jobs in retail, education, banking and more.
The Central Business District (CBD) will offer millions of square feet of world-class offices. At competitive to have excellent business opportunities. Palava's vision is to create a high number of jobs (4 lacs). Other high-quality jobs across retail, education and more. This will make the vision of 'walk to work' for Palava citizens a reality. Lodha to minimize the amount of time it takes citizens to and fro from work.
This business district will surely change the landscape as Lodha Codename Prime Square Palava and open up opportunities for its residents like never before. Added to the fact that Palava Prime Square Dombivali is home to shopping malls, recreational centres, parks, schools and most importantly the new international airport, the business park makes this neighbourhood an exclusive residence. For those who value their time and their money. Elevate it as India's mo.1 smart city and the city you want your kids to grow up in the future.
So what are you waiting for?
Log on to our website http://www.lodhapalavaacity.com/codename-prime-square/and find out how you can make Prime Square a place you can call home.
What's Your Reaction?