Welcome to Mumbai's Newest City-Centre – Lodha NCP
Inspired by city-centres around the world, Lodha brings you Mumbai's very own city centre: New Cuffe Parade at Wadala.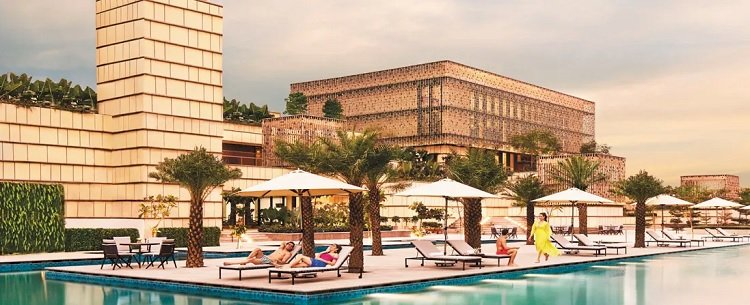 In space-starved Mumbai, open space is at a premium and world-class living a rare luxury. Lodha New Cuffe Parade at Wadala brings you both in a residential development that features amenities unmatched anywhere in the city and at par with the best in the world.
Spread across an expansive 22 acres, with open spaces totalling a grand 15 acres, New Cuffe Parade offers Mumbai's largest private open space in the city's best-connected location. Available in 1, 2, 3, 3-Bed Garden and 4-Bed residences spread across 7 towers, these homes cater to every family size, budget and taste. The best-in-class homes feature 3 open sides that provide expansive views and natural ventilation.
'The Gymkhana' is spread across a staggering 75,000 sq. ft., making it one of the largest clubhouses in India. A grand triple height lobby, fully equipped 4000 sq. ft. gym with a yoga/aerobics studio, poolside cafe, squash courts, multipurpose court for tennis and basketball, table tennis, snooker, cards room, a library with outdoor reading garden, business centre with meeting rooms, are some of the highlights that make the clubhouse truly one-of-a-kind.
There's more – healing garden, 11 swimming pools one of which is Olympic length, play areas and recreation zones, the 'High Line' elevated jogging track and cricket pitch are a few of the other things that add to the unmatched qualities of life at New Cuffe Parade.
Strategically located at the meeting point of the BKC-Sion Elevated Road, the Eastern Freeway, the Eastern Express Highway, the Metro 4 Wadala-Kasarvadavali corridor and the Monorail, New Cuffe Parade offers unmatched connectivity. The newly opened BKC-EEH flyover puts residents less than a 10-min drive from BKC. Fort and Lower Parel are within 20 min. and the airport is a short drive away. In essence, New Cuffe Parade lets you experience a pleasure affordable to few Mumbaikars – an easy commute to the city's key business, leisure and employment hubs.
World-class finishes, gorgeous views of the city, an ICSE school, Jain and Ganesha temples and the best connectivity to BKC, Fort and the suburbs, New Cuffe Parade offers truly integrated world-class living, and the prospect of great appreciation.
Lodha New Cuffe Parade has all the trappings you desire in an ideal home at a coveted city centre. Just ask the more than 1,500 families who are proud residents already. Request details or schedule a site visit and book an OC-ready home at the earliest.
Disclaimer
This story is based on information obtained from external source(s) and may be subject to change. While Horizon makes a reasonable effort to verify such information, it does not vouch for authenticity and/or accuracy, and bears no responsibility for damages or claims arising from the use of this information in any way.
What's Your Reaction?